Queridos amigos de los cuerpazos, llega por segunda vez el repaso a lo mejor del año en el mundo de la WWE. Nuestros monkeys in the truck (Don Carlos Heller, Centella, el helado y don Char) les traen una selecta (?) selección de lo mejor del show de Meekmahan en el 2018. Todo esto dividido en diferentes categorías, las que serán analizadas minuciosamente por nuestro Ugiles para determinar lo mejor del año cuerpazero en WWE.

Los Premios
Premio HBK al Mejor Luchador
AJ Styles
Seth Rollins
Johnny Gargano
Tommaso Ciampa
Adam Cole BAY BAY

Premio Charlotte Flair a la Mejor Luchadora
Becky Lynch
Charlotte Flair
Ronda Rousey
Shayna Baszler
Asuka
Premio David Arquette al Peor Luchador
ScaNia Jax

Brie Bella

Brock Lesnar

Big Cass
Premio Edge and Christian al Mejor Equipo

Moustache Mountain (Trent Seven y Tyler Bate)
The Undisputed Era (Kyle O'Reilly y Roderick Strong)
The New Day (Big E, Kofi Kingston, Xavier Woods)
The Bar (Cesaro y Sheamus)

Dolph Ziggler y Drew McIntyre
Premio Scott Steiner al Mejor en el Micro

Samoa Joe
Becky Lynch
Paul Heyman
Tommaso Ciampa
Elias
Premio James Ellsworth al Luchador Revelación

Buddy Murphy
Sonya Deville
Ronda Rousey
Carmella
Mustapha Ali
Premio WrestleMania X-Seven al Mejor Evento
NXT TakeOver: New Orleans 2
Evento que contó con las luchazas por el Campeonato Norteamericano de NXT y la lucha sin sanciones entre Gargano y Ciampa.
Una violenta "Chicago Street Fight" entre Gargano y Ciampa, además de Ricochet vs el Dream.
Una peleaza entre Cole y Ricochet, la coronación de Kairi y el último capítulo entre Gargano y Ciampa.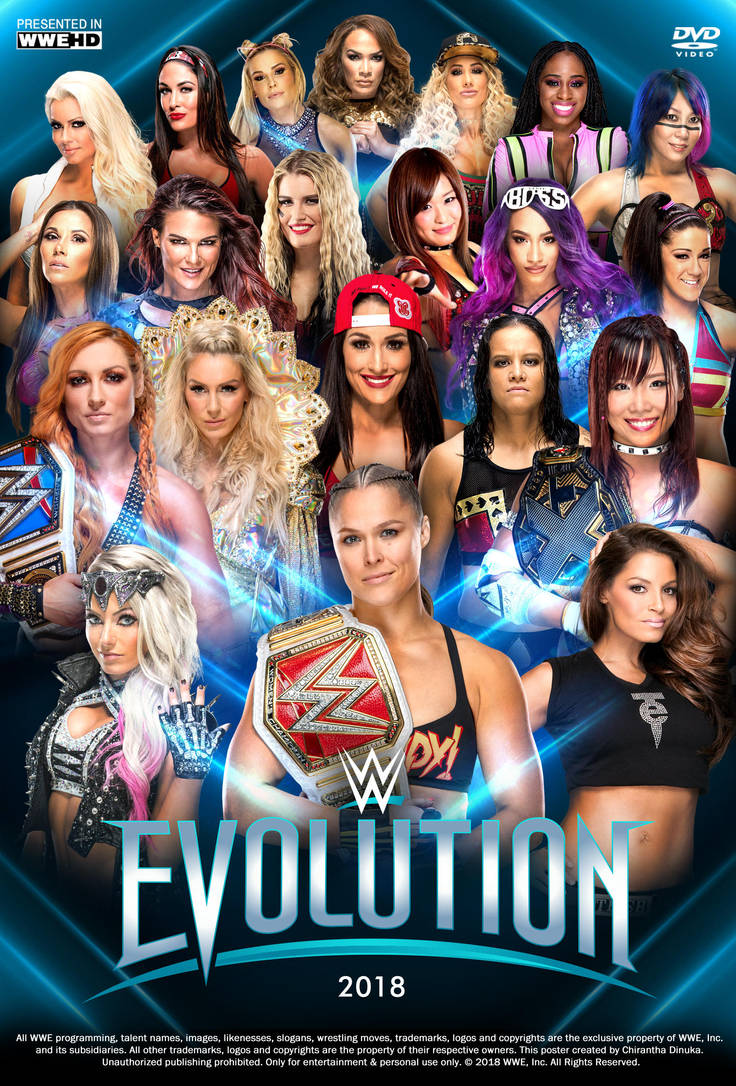 Primer evento femenino en la WWE, gracias a Stephanie (?), la velada tuvo la vuelta Lita y Trish, la final del Mae Young Classic, ganada por Toni Storm, y una gran lucha entre Becky Lynch y Charlotte Flair.
Último evento del año para la marca amarilla, con la venganza de Black, el Dream por el título y la War Games.
Premio a la Mejor Lucha del Año

*El buen Dave Meltzer tiene un sistema de calificación de máximo 5 estrellas, salvo en Japón. El ¼ señala que le faltaron 75 puntos (4.25) ½ significa que le faltaron 50 puntos (4.50) y el ¾ que sólo le faltaron 15 puntos (4.75).
Andrade Almas vs Johnny Gargano – NXT TakeOver: Philadelphia (*****)
Johnny Gargano vs Tommaso Ciampa – NXT TakeOver: New Orleans (*****)
 Adam Cole vs EC3 vs Killian Dain vs Lars Sullivan vs Ricochet vs The Velveteen Dream – NXT TakeOver: New Orleans (*****)
 Johnny Gargano vs Tommaso Ciampa – NXT TakeOver: Chicago (****1/2)
Undisputed Era vs Moustache Mountain – NXT #308 (*****)
 Becky Lynch vs Charlotte Flair – WWE Evolution (****3/4)
Adam Cole vs Ricochet – NXT TakeOver: Brooklyn 4 (****1/2)
Tommaso Ciampa vs The Velveteen Dream – NXT TakeOver: War Games (****3/4)
Aleister Black vs Johnny Gargano – NXT TakeOver: War Games (****3/4)
Daniel Bryan vs AJ Styles – TLC (****3/4)
Feudo del Año

Becky Lynch vs Charlotte Flair
Charlotte Flair vs Becky Lynch – Hell in a Cell (***3/4)
Becky Lynch vs Charlotte Flair – Super Show-Down
Becky Lynch vs Charlotte Flair – Smackdown Live #999
Becky Lynch vs Charlotte Flair – Evolution (****3/4)
Becky Lynch vs Asuka vs Charlotte Flair – TLC (****1/2)
 AJ Styles vs Samoa Joe
AJ Styles vs Samoa Joe – Summerslam (****1/4)
AJ Styles vs Samoa Joe – Hell in a Cell (****)
AJ Styles vs Samoa Joe – Super Show-Down (****1/4)
AJ Styles vs Samoa Joe – Crown Jewel (***1/4)
Johnny Gargano vs Tommaso Ciampa
Johnny Gargano vs Tommaso Ciampa – Takeover: New Orleans (*****)
Johnny Gargano vs Tommaso Ciampa – Takeover: Chicago II (****1/2)
Johnny Gargano vs Tommaso Ciampa – Takeover: Brooklyn IV (****1/2)
Premio BAH GAWD al momento CTM del Año
Roderick Strong se une a Undisputed Era – NXT TakeOver: New Orleans
Turn heel y campeonato para el nuevo Daniel Bryan – Smackdown Live
Debut de Ronda Rousey – Royal Rumble
Charlotte rompe la racha de Asuka – Wrestlemania 34
Turn heel de Dean Ambrose – Raw
Premio Piper's Pit al Mejor Segmento
Becky Lynch invade Raw – Raw
The Ultimate Deletion – Raw
Daniel Bryan regresa – Smackdown
Evolution se reúne en SD 1000 – Smackdown
Ciampa incita la Steel Cage entre Gargano y Black – NXT
Premio Kevin Dunn al Momento más Nefasto del Año

Nia Jax lesionando a Becky Lynch – Raw
Brock Lesnar vuelve a ganar el Campeonato Universal – Crown Jewel
Roman Reigns anuncia su retiro temporal – Raw
Las hermanas de Bobby Lashley – Raw
Premio The Rock al Mejor Paseo en el Micro

Becky Lynch a Edge – Smackdown Live
Ronda Rousey a Nikki Bella – Raw
Jarrius «J.J.» Robertson a The Miz y John Cena – HOF
John Cena a Undertaker – Raw
Premio al Mejor Bordeo de Samoa Joe
I'm you new daddy – Summerslam
Havin' a bottle of champagne around you isn't the best idea – Smackdown
"We can all agree maybe havin' a bottle of champagne around you isn't the best idea." – @SamoaJoe to Jeff Hardy#SDLive pic.twitter.com/djdJNRcY5r

— GIF Skull – Change The Whole Universe (@GIFSkull) November 28, 2018
Night, night, AJ – Smackdown
Premio al Mejor Bordeo de THE MAN en Twitter

A Charlotte Flair y sus enormes tetas
Charlotte calling me out on TV and online for "missing time." Again, The Man will just provide the truth in the face of lies. pic.twitter.com/wEGuktuaPd

— The Man (@BeckyLynchWWE) December 7, 2018
A Chris Jericho y su album de Fozzy
The suckerpunch drew blood for sure. Little known fact though: I actually got the concussion from trying to listen to your last "album."

— The Man (@BeckyLynchWWE) November 19, 2018
A Ronda Rousey por su última pelea en UFC
Ronnie, TL/DR. When I got my face broke I got up, owned you THEN showed up the next day looking to fight some more. When you got your face broke you hid for a year under your blankie. Your mind is as weak as your jaw, & I'm going to move heaven & earth to come destroy them both. https://t.co/8oDubzNYr4

— The Man (@BeckyLynchWWE) November 14, 2018
So Graves has been saying I'm too cocky, and I talk too much on social media – like that's a bad thing. I drum up more interest in 1 tweet than you do with 5 hours of your Heenan-lite routine every week. Listen, I'm here to make history, you're just here to observe me do it. pic.twitter.com/Iddsuw3ArY

— The Man (@BeckyLynchWWE) December 12, 2018
A Seth Rollins por derechos de imagen(?)
No problem, I could spare five minutes to drop down and face you. Send location. And bring those adorable little flame trunks you have so The Champ can show you how to really burn it down #iamtheman https://t.co/4rGVBHrdgj

— The Man (@BeckyLynchWWE) November 4, 2018
Premio al #Humor del año

Kane pierde su máscara – Crown Jewel
Acá el momento en donde Kane deja de ser la máquina roja de la destrucción y pasa a ser el alcalde de un pueblito #JoyitaCL
pic.twitter.com/WTyPjBVOKC

— Lucha #TeamHeel (@LuchaTeamHeelCL) November 2, 2018
The Chilean Sea Bass – Raw
https://pbs.twimg.com/media/DpB9AC_XoAENFVk.jpg
R-Truth vs Carmella – Smackdown
Caída de Titus O'Neil – The Greatest Royal Rumble
Shane McMahon gana el trofeo al "Best in the World" – Crown Jewel
Jeff Hardy Botch – The Greatest Royal Rumble
Shinsuke Nakamura trolleando a Renee – Smackdown